SECOND ANNUAL JORDAN FAWCETT MEMORIAL 3-ON-3 BASKETBALL TOURNAMENT COMING THIS MARCH 24TH, 2012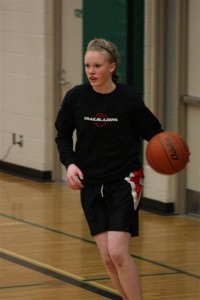 Celebrating Purple Day, Epilepsy Awareness Day and organized by Jordan's friends, the 2nd Annual Jordan Fawcett Memorial 3-on-3 Basketball Tournament will be held on March 24th and is accepting registrations!
Jordan Fawcett Memorial 3on3 Basketball Tournament
Registration for each team is $60. Your team must have four players, and one female must be on the court at all times. The divisions are:
ELEMENTARY- Grades 6-8
JUNIOR – Grade 9 & 10
SENIOR – Grade 11 & 12
ADULT – 19 + and no longer attending high school
Lunch will be provided for competitors and available for purchase by spectators.
Event t-shirts will be for sale as well as epilepsy attire.
Spectators do not have to pay for admittance, although donations are greatly appreciated!
All funds from the tournament will go towards the Jordan Fawcett Memorial Fund and Epilepsy Awareness.
Download the registration form here Jordan Fawcett Memorial 3on3 Basketball Tournament and email it to Heather Richardson [ h.richardson14@gmail.com ]. All registrations must be received by Monday, March 19, 2012.
Thank-you and hope to see many coming out!
FIRST ANNUAL BASKETBALL TOURNAMENT A HUGE SUCCESS!!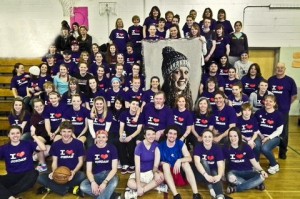 The first ever Jordan Fawcett Memorial 3-on-3 Basketball Tournament took place on Saturday, March 26th at the Grey Highlands Secondary School in Flesherton, and was deemed "a huge success," stated the organizing committee. March 26th was Purple Day, international Epilepsy Awareness day. The tournament was organized by the friends of the late Jordan Fawcett who died suddenly on November 2, 2010 to SUDEP (Sudden Unexplained Death in Epilepsy) to celebrate her life through her passion of basketball and raise awareness for Epilepsy.
Eighteen teams of four players from all over Grey, Bruce, and Simcoe Counties played off to see who would take home the gold. There were three age divisions playing 10 minute games tantalizing the unexpected huge turn out of spectators. The winners were: Grade 7-9- "Money" (Lukas Rintoul, Stew Ensing, Jacob Hill, Matt Wardrop) from Owen Sound, Grade 10-12- "West Side Certified" (Jordan de Jong, Orlando Greco, Jonathan Adsetts, Mike Wood) from Grey Highlands Secondary School, Adults- "The Boys" (Shaun Perry, Sean Roehrig, Toby Hall, and Josh Nelson) also from Grey Highlands.
With the support and assistance of the students, teachers and staff of Grey Highlands Secondary School, the tournament not only was a huge success, but it also raised a surprisingly $3,500 to be donated to the Jordan Fawcett Memorial Fund, Epilepsy Huron Perth Bruce Grey and SUDEPaware.
"This is a story to be shared and honoured," said Debbie Fawcett, Jordan's mother, "as often we don't hear about the wonderful things teenagers are choosing to spend their spare time on." The Fawcett family all played in the tournament and extend their deepest gratitude to Jordan's amazing friends who took this event on, the students, teachers and staff at Grey Highlands Secondary School, and the many community sponsors, as the tournament couldn't have been possible without them all working together, and the funds raised were a huge bonus!
At the end of the tournament the almost 200 people gathered for a medal ceremony and a beautiful handcrafted wooden plaque was presented to the winners which will remain in the high school. The organizing committee took great pride in their accomplishment when the crowd roared when asked if they would like to participate again next year. After the awards a timely slide show honouring Jordan Fawcett was played and an unplanned moment of silence fell over the crowd along with many shared tears.
If you see these amazing teenagers in town, please thank them for their amazing contribution to our community; Brett MacMillan, Heather Richardson, Raychel Swayze, and Olivia Quinn-Smith.